Toyo India understands the importance of safety, comfort, and durability for your little one. We have researched and compiled a list of high-quality options that meet our stringent standards. Here are some top recommendations: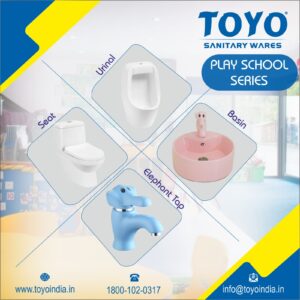 Toyo India Deluxe Soft-Close Baby Toilet Seat: Our Deluxe Soft-Close Baby Toilet Seat offers a perfect balance of safety and comfort. It features a soft-closing mechanism, preventing accidental slams and ensuring a peaceful bathroom experience. The ergonomic design provides optimal support and stability for your child.
Toyo India Adjustable Potty Training Seat: Our Adjustable Potty Training Seat is designed to grow with your child. It offers a customizable fit to accommodate different toilet sizes. The non-slip grips and splash guard provide added safety and cleanliness. Made from durable materials, this seat is built to withstand regular use.
Toyo India Baby Toilet Seat: Our Baby Toilet Seat is ideal for families on the go. It is lightweight, compact, and easy to carry, making it perfect for kids. Despite its best design, it doesn't compromise on safety or comfort, providing a secure and comfortable seat for your child.
At Toyo India, we prioritize providing high-quality baby products that meet the needs of modern parents. Our baby toilet seats are designed with your child's safety and comfort in mind, ensuring a positive and enjoyable potty training experience. For more information and to explore our wide range of baby products, please visit our official website at www.toyoindia.in